A Connecticut Outdoor Living and backyard solution - Haynes OutDoor Living Showroom
Haynes Outdoor Living Showroom is the Southwestern Connecticut outdoor living and backyard premier destination. The 30,000 sq. ft Haynes Outdoor Living Showroom offers complete landscaping, masonry, aggregate, and Stoneliving materials. Our Connecticut outdoor living choices include products and services to help enhance or completely transform your backyard or garden area. We work with you to figure out your exact wants and needs to create the outdoor space you've been dreaming of.
If you're looking for outdoor living products to enhance your patio or backyard, Haynes has you covered. For smaller options, we offer custom built & pre-finished stone outdoor firepits that are delivered right to your door. Haynes is proud to offer options for natural gas and wood burning firepits. We also offer custom built natural gas fire rocks delivered right to your door that are sure to be the centerpiece of any backyard. If you're looking for something larger, you may decide on one of our outdoor fireplaces with simple and hassle-free installation, making it easy for you to get summer started in style and extend every season of outdoor living!
Heating up your summer is easy with Haynes' outdoor kitchen options. We offer two kinds of grills; "Standard" module units that come in 5ft or 7ft grill islands, and "Premium" Outdoor Kitchens. We have Standard Grill Islands in stock, and many of them can be delivered tomorrow. Our "Premium" Outdoor Kitchen models are built to custom specification and built for special order only. All of our units are completely manufactured and produced in New England. We don't outsource, we don't compromise our standards of craftsmanship and we will stand firmly behind every one of our products.
If you're looking to spice up your summer parties with a simple accessory, we recommend considering one of our pre-finished, ready to light wood-fired pizza ovens for purchase or rent. Just select your stone, order and schedule an easy, no fuss delivery of one of these beautiful accessories.
For landscaping materials, our on-site Landscaping Designer can help you envision adding mulch or decorative stone to improve the health and look of your backyard or garden. Mulch does much more than just give your yard and gardens a well-groomed, professionally landscaped look. Mulching can be one of the most beneficial things you can do for your plants and soil. Decorative stone is a low-maintenance, beautiful way to improve the look of your backyard or garden.
For those looking for a bigger transformation to their Connecticut outdoor living space, patio pavers may be the perfect way to accent your landscape in a variety of ways. Depending on your type, size, and style, we have many vendor options available, including Techo-Bloc, Belgard, Nicolock, and Unilock.
The Haynes Outdoor Living Showroom can also provide vision to a major transformation or design to your home or Connecticut outdoor living space. Discover a variety of our natural stone options to fit your needs, whether that be building a retaining wall, front walkway, back patio or pool area, and more. We take great pride in the wide selection of unique stone options we offer. With stone materials sourced from company-owned quarries, the Haynes Outdoor Living Showroom is able to deliver an unmatched combination of quality, service, and value.
The Haynes Outdoor Living Showroom is proud to serve contractors and homeowners. The on-site landscape designers will work with you to design your backyard living area. Fill out the form below for a free appointment or call us at (203) 888-0030 with any questions.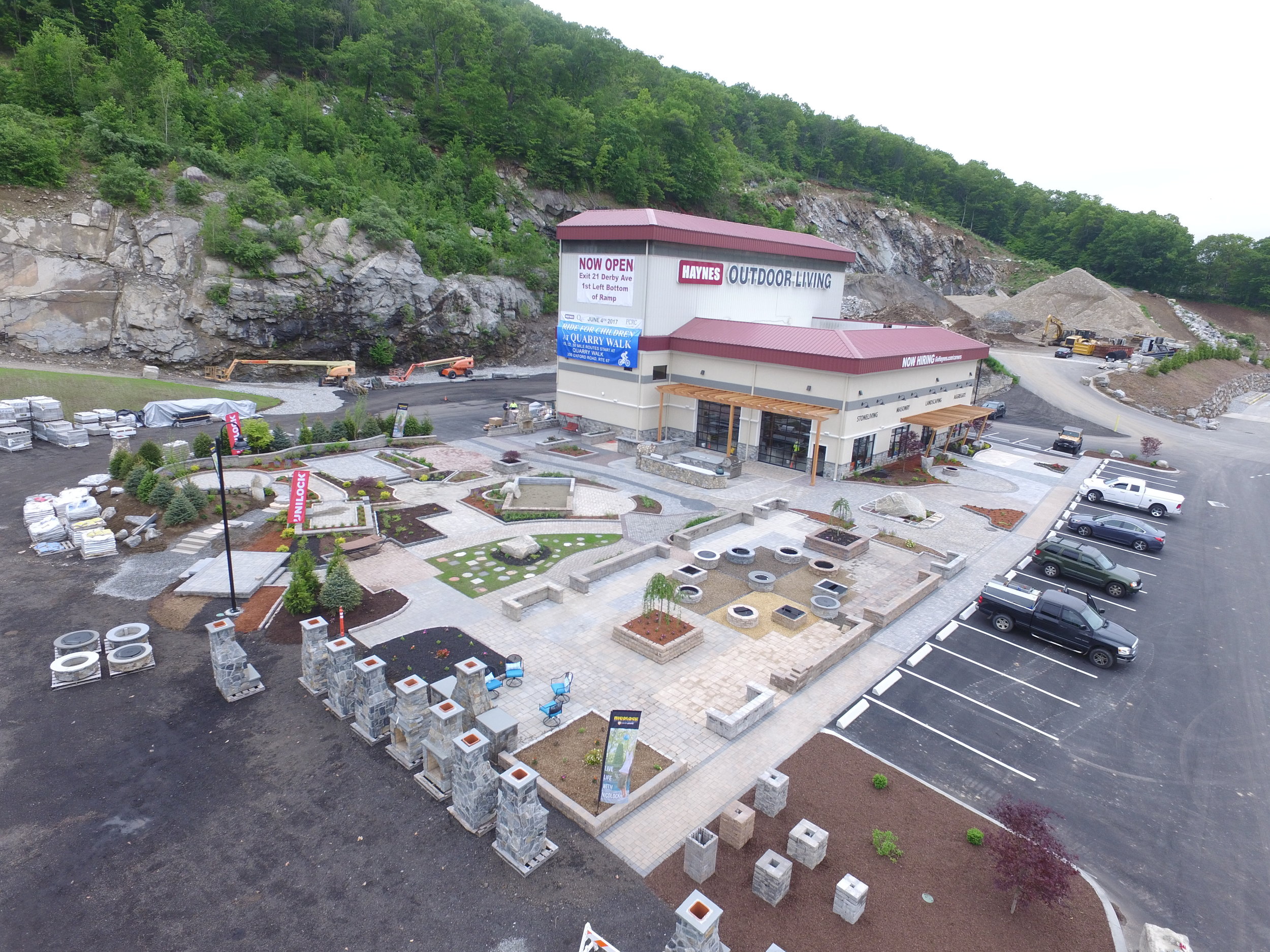 Haynes Outdoor Living Showroom - Connecticut Outdoor Living
Offering the best value on everything you need to design, build, and enjoy your Connecticut outdoor living space, with materials harvested from Haynes-owned quarries.
The outdoor living showroom
600 Derby Ave
Seymour, CT, 06483
United States